When I was a child I loved to play dolls like other girls in this age. My room looked like real doll's world. There were lots of toy furniture, houses, horses, cars and dolls...Me and my friends, we dressed up
them
in ready-to-wear clothes and later, we started to sew costumes with mums' help. My passion lasted for a long time till I was 9. But after that, it didn't disappear, it grew into something more grand, more complicated. I realized that I can dress up myself instead of Barbies, do different hairdos, choose accessories for myself, not just for silly dolls. My love of playing dolls grew into my love for fashion.
This book became a borderline between my love to play dolls and

my

love for fashion
I realized that I can dress myself instead of Barbies...
I discovered for myself with the lapse of time that fashion it isn't always baby-doll dresses, pastel colors, playful curls and feminine make-up. Remember for example such styles like Grunge, Gothic or Pank Rock. It is doubtful whether Barbie would wear clothes from Marc Jacobs' 1992 collection for Perry Ellis. And Gothic make-up won't do for this cutie. In general, fashion during its long way from luxurious ball toilets to rocker-style leather jackets in combination with Dr. Martens gave us to understand that is created not for sweet young ladies, who hope
from
one ball to another. It's created for powerful women that know their own worth and able to understand a designer's idea, his inspiration and to present looks correctly.
Marc Jacobs grunge collection for Perry Ellis, 1992
Guess which one I'd like to wear? Second!
However, the existence of fashion is impossible without the feminity! Even if Paul Poiret has exempted women from the corset and Coco Chanel has exempted them from hats that looked like meringue cakes, woman's look hasn't become shapeless, a fortiori, mannish. Of course, there are such notions
like "androgynous", women often wear clothes from the men's wardrobe and designers create unisex wear. But simple elegance and

quite

as the minimalism created by Chanel and replaced the pomp of

ladies'

apparels of XVIII-XIX centuries made room for Christian Dior's "new look" in 1947. And thing that has made women play this feminine style false and to put on pants and men's suits in the 60s isn't just a whim of such designers like Yves Saint Laurent and Gorgio Armani, but the necessity of life.
Hats that looked like meringue cakes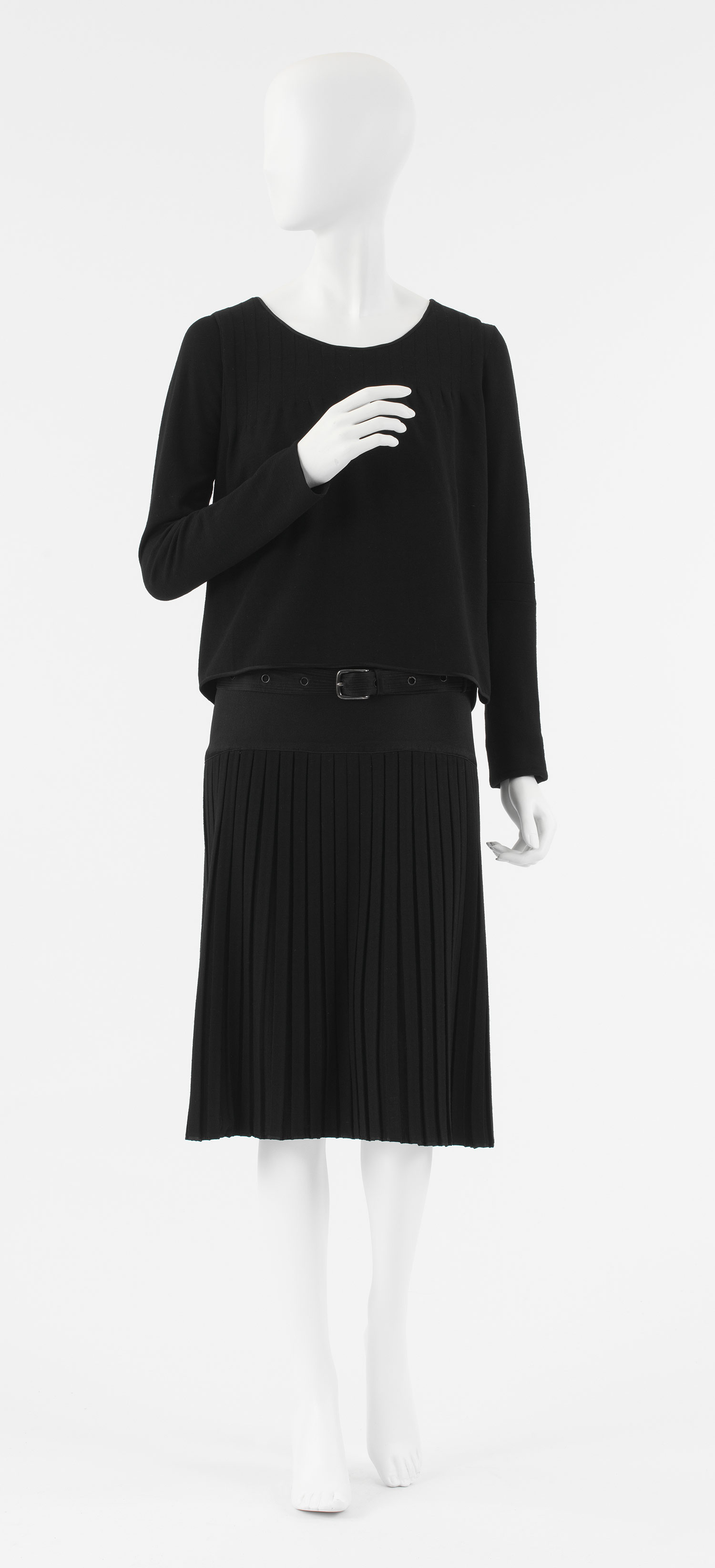 Day ensemble
,

ca

. 1927
Gabrielle "Coco" Chanel (French, 1883–1971)
Silk, wool, metal
"New look" by Christian Dior
Fashion is wavy like many other things. Some styles and tendencies change others by reflecting changes of the society and of the world. When the woman became independent and turned up for work, gained some rights and duties that only men had till that moment in XX century, her look changed according to her new lifestyle. But the feminity in fashion will never disappear because it permits all women look pretty regardless of age and appearance.
In the
new s/s
2012 season the feminity or, better to say, '
dollness'
forgotten last years ascended the throne again. 'Ladylike' style came back from the 50s. Coats from the Louis Vuitton collection remind me clothes I have been sewing for my dolls, pastel colors from Chanel fashion show make an image of the doll of Tutti's heir come to my mind and Nina Ricci and Valentino shows, fruit and berries printed dresses Moschino Cheap&Chic bring association with the most famous doll in the world. Makeup on the catwalks doesn't contradict clothes: shiny skin with light blush, soft-pink lips, downy lashes like at the Chanel, Dolge&Gabbana and Louis Vuitton fashion shows. And also doll makeup version with juicy lip gloss palette from Marc Jacobs and Victor&Rolf shows. And Meadham Kirchhoff has made women look like Russian dolls (
matreshkas
).
Meadham Kirchhoff
This tendency hasn't just ended with spring/summer looks. As an example Barbie The Dream Closet party in February in Lincoln Center in the network of the NY Fashion Week. This event hasn't left indifferent American designers, stylists, bloggers, actresses. A lot of them have come with their kids. Kids' dreams to visit Barbie's house have realized and adults wouldn't mind to explore the wardrobe of this pretty, that she has been collecting during 53 years. Visitors could not just see 'live' dolls, plunge into a pink world of kids' dreams, but also try on virtual Barbie wardrobe.
I don't know how long will stay this Barbie-trend. Because early or late it will
pall
on us like it was before. But it's impossible always put on the Gothic look of a mysterious femme fatal introduced by Ricardo Tisci in Givenchy collections. Little girl that dream to feel like a fairytale princess live in every one of us. However, fans of feminine look and baby-doll dresses rejoice this season and we can easily compete with Barbie in wardrobe not being like Cindy Jackson!
Feel yourself like a doll!